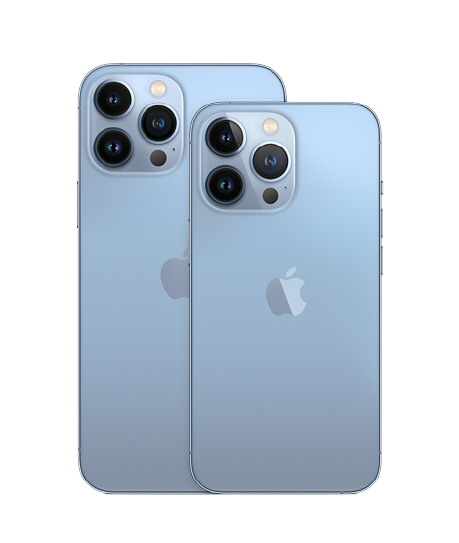 Hey guys, it's Socialtimepass here. We have the brand new iPhone 13 series in the house. In this article, we're just going to be looking at the main features and intersting things about iPhone 13 Pro and the iPhone 13 Pro Max.
So the iPhone 13 Pro and the iPhone 13 Pro Max, let's go ahead and get these Beasts Roars. I'll give you my first impressions, and we'll see what they have to offer.
Box Contents:
So looking at the boxes initially, we've got slimmer boxes like we had last year, but slightly different becausethis time we have the picture of the back of the iPhones, rather than the front like iPhone 12 Pro last year. You can see that we had the front of the display here in the picture, we now on iPhone 13 Series boxes have the back.
We Have got the brand new Sierra Blue color. I just went with the SierraBlue for both of them. Maybe I should have got one in a different color Tell us in Commects. You may also notice that we don't have any plastic wrapping around the boxes this time. And that's because Apple istrying to reduce its carbon footprint, so yeah, nice good starting for them. The unboxing experience is identical with both devices, as well as the iPhone 13 Pro and 13 Pro max. You do get some paper work, a sim card tool under white Apple sticker, and then there's a USBtype-C to Lightning cable. Now, if you don't alreadyknow, like last year, we do not get a power brick included out of the box.
Color Options:
Sierra Blue, Graphite Gold and Silver
Design Review:
Now, the overall design of the 13 Pro and 13 Pro Max is pretty similar to what we had last year. So we've got the flat edges andthen we've got the stainless steel frame. The stainless steel frame does look great for the first few seconds whenyou get it out of the box, but then it does attractfingerprints very quickly. Now I know this is more durable, but I do prefer the look of the aluminum frame that we have on the 13 and the 13 mini. But then we've got a frosted glass back. This has really nice matte finish.
I do like this and the camera modules also look quite similar to what we had last year. However, these are slightly larger and the camera moduleis slightly larger here on the 13 Pro Max, and the 13 Pro Max are also slightly thicker compared to the previous generation. Now, this will mean that if you've got some cases from the 12 Pro or the 12 Pro Max, they're not going to fit in the new 13 Pro and Pro Max. The 13 Pros are also slightly heavier compared to last year, because they haves lightly larger batteries. So just do keep that in mind. I would definitely try this out in hand if you're coming from a smaller iPhone.
Now we still have the same IP68 water and dust resistant rating, which is great. 30 minutes up to six meters, which is much higher than many other smart phones out there. But the biggest improvements are here on the front.
Display Review
Now, although we still have the same ceramic shield, which is super tough, Appledon't even call it glass. We still have relativelythe same size bezels, but we have a reduced size nudge, so it's around 20% smaller compared to last year. And although both of these are OLED displays, which means that colors are really vibrant, and things really do pop. The iPhone 13 Pros are now around 25% brighter compared it to the iPhone 12 Pros.
Most importantly, these are now pro motion displays, which supports up to a 120 Hertz refresh rate. I'm so glad this is here. Now, what that means is when you're scrolling through your feeds, when you're gaming, things are just going to bethat much more responsive because the screen is going to be refreshing up to 120 times a second, compared to around 60 times a second, what we had on the iPhone 12 Pros, these displays also havean adaptive refresh rate, meaning they can go allthe way down to 10 Hertz, which is going to save battery life.
So for example, if you've got something static here, it doesn't really need to berefreshing 120 times a second. So it's going to go all the waydown to just 10 times a second. Now I know some of the Androidfans are going to be going crazy in the comments saying that, we've had this for a coupleof years, but nevertheless, it's nice to have this hereand adaptive refresh rates have really become a thing overthe past year, I would say. So it's kind of expected to have this at this point on the Pro models of the iPhones.
Performance Review:
So the new iPhone 13 Pros are powered by the brand new A15 Bionic chip. Now on the iPhone 13 Pros, this actually has a five core GPU compared to the four core GPU that you have on the iPhone 13s. And that's going to meanimproved performance, including the ProMotion display. I mean, if you're playing games that can support that display, you are going to be needingthat extra performance. In terms of exactly how much better this is compared to the A14, this is something that appledidn't really talk about in the keynote. They said, it's certain percentages better than the leading competition.
Now, which leading competition they were specifically referring to, they didn't say. So we don't know, but nevertheless, I'm very confident that the A15, like the A14, is going to be very, very fast and smooth. And also, with the new ISP, Image Signal Processor that comes with the A15, we're going to getimproved images and video. So let's talk about the cameras. The front facing camera hasn't really changed from the hardware side of things. We do have that newImage Signal Processor. However, the rear facing cameras have been completely changed.
So we have a brand new ultra-wide primary, and telephoto camera. And this year they are exactly the same between the iPhone 13 Pro, and the Pro Max. You may know that last year, the 12 Pro Max did havesome additional features compared to the 12 Pro, this is not the case this year.
Camera Review:
Let's talk about the camera. So we do have 12 megapixels across the board. Apple does like to keep things consistent. The primary camera hassensor shift optical image stabilization. This is something that we saw introduced on the iPhone 12 Pro Max is something that I absolutely love. Now it's on all of the newi Phones, which is great. The primary camera alsohas a larger censor size. So it's got around a 2.2 times improvement in low light. That's not just going to meanbrighter images in low light, but it's also going to meanthat you're not going to have to wait as long.
It's going to have a quicker shutter because it's going to be able to capture morelight, absolutely awesome. We then have a telephoto camera. And this time we've got three times optical zoom, the most we've ever had on an iPhone. And this will give you the equivalent of around 77 millimeters, which will be really interestingto see for portrait shots. And finally, we have acompletely new ultra wide camera. This will give around 92%improvement in low light, according to the keynote, but it also has the ability to refocus, which will allow it to be used as a macro camera as well. Now I know macro cameras do get some bad reputation because of the two megapixel macro cameras we see on many other smartphones.
However, there are lots of other smartphones out there, like the S21 Ultra ,someof the OnePlus devices, which actually do use the ultra-wide camera for macro shots, and they do a great job. And I'm so glad that wenow have macro photography on the new iPhones.
Now, the camera interface has also been updated. We have now photographic styles. So the way this really works is it allows you to pick a particular style that you like, and then your images will look like that. We've seen many times when we compare iPhone images to say, Samsung images, Samsung images tend to bea little bit more vibrant, a little bit more contrasty. So if that is a look that youlike, you can turn that in. And then whenever you take an image is already going to use that with the computational photography. And it's going to give youthe result that you like.
Personally speaking, I think I'm going to just leave this to normal because I actually quite like the images that come out from iPhones. I would say that they'requite natural, but again, I will be testing this out. We still have the LiDARscanner on the Pro models, which is going to be usefulfor depth information, for focus, as well as lots of AI features. We also have some solidimprovements for video. So the new iPhone 12 Pros do support four key 60 frames a second with Dolby Vision HDR. Now you guys may haveheard me say this before. And some of you are goingto say that I'm biased, but in my opinion, iPhone still take the best video on any smartphone out there, very consistentand very, very good quality.
On this year, Apple has tried to take that even further with some new features. One of which is cinematic mode, cinematic mode, think of it as portrait mode, but for video. We've seen certain implementations of this on other smartphones,but honestly speaking, they haven't been too good. So I'm excited to see what Apple has to offer up. In my first impressions, itdoes look pretty promising. And what's unique aboutthe iPhone 13 Pro and Pro max is that when using cinematic mode, you can actually change focus after the fact in video. This is something that you can'tdo in any of the smartphone right now. And we are supposed to be getting ProRes video support soon. ProRes video is mainly for professionals who want to re-edit theirvideo after the fact, but I really can't imagine how big the files are going to be.
Battery Review:
Batteries and charging, so as mentioned earlier on, we do have slightly larger batteries on both of these devices and with all of theoptimizations of the adaptive refresh rates, as well as the A15 Bionic, we should be getting around 1.5 hours more on the 13 Pro and around 2.5 hours more on the 13 Pro Max. This is something that I'm of course going to be testing for my full review, but the 12 Pro Max already gave me excellent battery life. So I am very hopeful thatthese will be great too. For charging, these do supportup to 20 Watt wide charging, however, that charger is sold separately, as you guys already know.
We've got Qi wireless charging supports up to 7.5 Watts on of course, MagSafe. MagSafe will give you up to 50 Watts. So there's not really any change in terms of charging here on the 13 Pro and 13 Pro Max. Finally, storage in pricing, so the storage models,we still have 128, 256, and 512 gigabytes. However, there is now a one terabyte option. I'm not sure who's going to get that, maybe I need to, because so far I've taken up around 400 gigs on my iPhone, but anyway, and for the price, in the US, the price is roughly about the same as what the iPhone 12 Pro and the 12 Pro Max came in at.
However, surprisingly here in the UK, the iPhone 13s are coming in price lower compared to the iPhone 12s. So we're looking at around 50 pounds less for each storage version, which I'm not going to lie, I was very surprised about, but pleasantly surprised, of course. So that is the iPhone 13 Pro and the 13 Pro Max. Overall, these do lookvery, very promising. Yes, you could argue that the iPhone 13 and the 13 mini are more of like 12 as is, but I think the 13 Pros dobring lots of improvements, such as the brand new cameras, the Pro Motion display, the A15 with a five core GPU, there's lots to be excited about and to test out, what do you guys think of the 13 Pros? Definitely let me knowin the comments below, also let me know if you wantme to do some separate coverage of the 13 and the 13 mini.