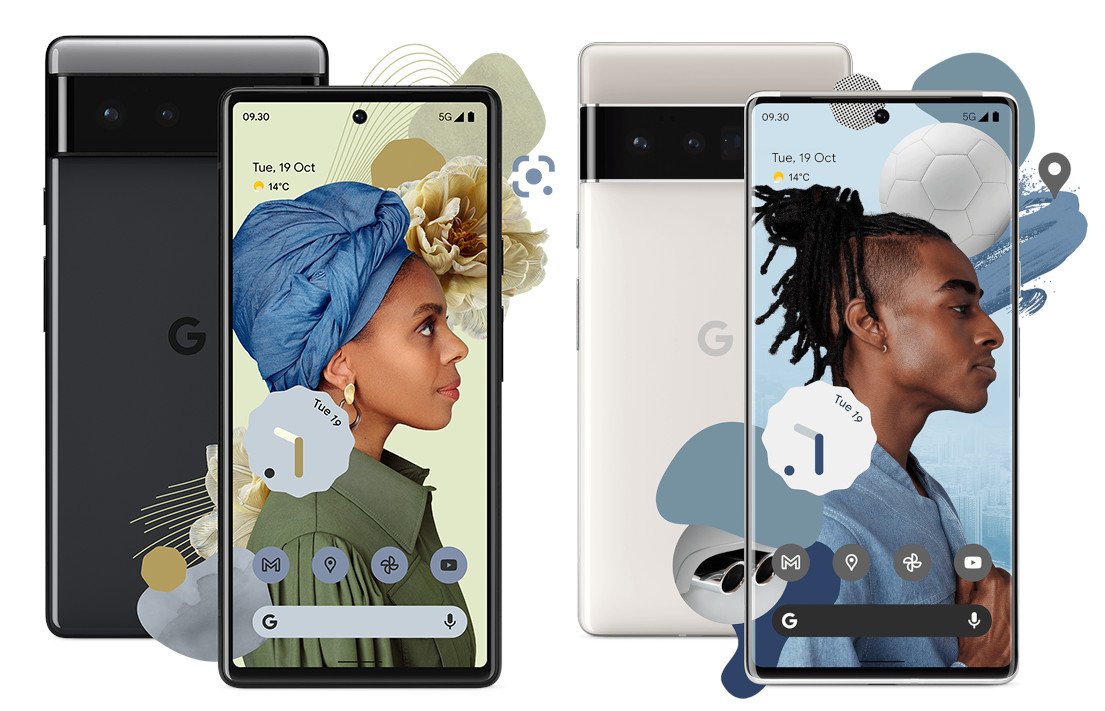 So at long last after leaks and pre-announcements, and announcements, and billboards, and TV ads, I guess we're at the final moment, the launch of the Pixel 6 and the Pixel 6 Pro.
If you've been following Pixel phones for a while, then you might know that even the best ones, they haven't been among the best smartphone flagships and these phones, they're supposed to change all that. 
So let's start with the important numbers here.
Pricing

599 for the Pixel 6, 899 for the Pixel 6 Pro. And that's with 128 Gigs of storage too. So they're a little less expensive than comparable iPhones, Samsungs, or even One Plus phones, which is a bit of a Pixel theme that continues even though these are meant to be high-end phones.

Now, this is a hands-on and the rules of the hands-on are that I can tell you about the hardware and I can show you my home screen, but that's about it. 
That could be a bad sign, but I think that Google is going for that whole like live tech event, hands-on thing. Anyway, those are the rules that they set for everybody. 
So let's talk about hardware.
Hardware

Now, despite the price differences, these two phones, they actually share a lot. So both phones, they have Google's new custom Tensor Processor. And Google says it's competitive with the Qualcomm Snapdragon 888. That's a big deal.
And it's all centered around Google's AI-boosting TPU that promises to improve photos and videos, text-to-speech, search, the list goes on. We'll really have to see how that goes in our full review and when we're really testing these phones.
So stay tuned for our full review coming very soon.
Camera

Both Pixels also have a 50-megapixel main camera that uses pixel binning to combine four pixels into one, to make a 12.5, that's 50 divided by four, 12.5-megapixel image.
And that sensor, yo, that sensor's huge!
One over 1.3 one inches. And that's bigger than the iPhone 13 Pro's main sensor
if you're keeping count, but the pixel pitch is slightly smaller at 1.2 microns. And then the main lens, it has an F1.85 aperture. 
Both have a 12 megapixel ultra-wide at F2.2. Both have fixed focused hole punch selfie cameras on the front.

Both have stereo speakers, Both can capture 4k video at up to 60 frames per second, and slow-mo at 240, 1080. They also share the same Google software. It's a version of Android 12 that got a few extra Google-specific things
that are powered by that Tensor AI processor, including faster translations and a magic eraser feature that lets you get rid of unwanted stuff in the background of photos.
Features
I'm actually pretty excited to test that one out and a few other things.
They also have optical fingerprint sensors under the screen, wireless charging, and reverse wireless charging for accessories, like the Pixel Buds. Love that feature so much and Google is calling it Battery Share.

Now, both also support Wi-Fi 6E, Bluetooth 5.2, and NFC. They have five years of promised update supports, which is the longest Google has ever offered a Pixel and longer than basically any other Android phone you can buy.
And Google is going to be selling plastic clip-on cases that work around the camera bumps and add some grip, but they don't feel nearly as nice as those old fabric cases that Pixel phones have.
Though, they might age a bit better than those did, which aged incredibly poorly. But anyway, they also share a design sensibility. So that's Gorilla Glass Victus on the front and two-tone glass on the back.
But let's talk about this camera bar. It's a very ala Galaxy S10 if you ask me, but like on steroids. All camera bumps are silly and I think we've just gotten used to seeing them over here.
So I'm not really too bothered by this. The only thing is that it's absolutely massive. I think the benefit though, is that since it spans the whole back of the phone, it means that your phone will sit on a table a lot more evenly.
I also think I would get like really used to this camera bump because if I own this, it would always be in a case which would kind of like, fill in the gap between the bump on the back of the phone.

But I also think the way that this is executed shows that even though this is Google 6 Pixel, it kind of feels like it's first or second, try making a true flagship.
For example, the curves from the sides, they don't even blend in with the camera bump, which is weird. And in general, well fit and finish are good. There are just a few places where it seems like things aren't truly seamless.
Like you can literally feel the seams, especially on the regular Pixel 6, which hold on, hold on, hold on, full-stop.
Okay, so let's now talk about the differences between these phones. What does an extra $300 actually get you?
Well, the Pro has a slightly bigger screen with a higher refresh rate, more RAM up to 512 Gigabytes of storage, and the screen is curved on the edges, the bezel's invisible on the sides and smaller on the top. Curved screens have really fallen out of fashion lately, which is a huge bummer to me because I'm a huge curved screen fan, which I think is part of the reason I haven't upgraded from the S10.
But anyway, here, I have to say that you can see a shadow on the edges when you're looking at it at an angle.
And we have to spend more time with these to see if there are any palm-resting issues or, you know, touch sensitivity issues on the edge of the screen as well. So stay tuned for our review for more on that. 
The Pro also has a four X-folded telephoto zoom. It's right here. It's in the middle of the bar. It looks pretty bad-ass and the regular doesn't. And the Pro selfie camera is a little higher resolution. It's a little bit bigger in size.
And it has a little wider field of view as well.
5G Connectivity
Now the Pro has a mmWave 5G. The regular does not, except on Verizon where it'll cost you a hundred dollars more. The 6 Pro also has an ultra-wideband chip, and the Pro is shinier like shiny edges, unlike the matte edges on the regular.

And lastly, the Pro comes in more professional color options. I think the regular colors are a little bit more fun. And honestly this like, white and green is so dope. Now, this is a question for the review, but you know, I'm not entirely convinced that the Pro is worth the extra money. 
A lot of that is gonna depend on how well the telephoto camera performs and that slightly larger battery. And side note, this phone does support 30-Watt fast charging, but it does not come with a brick in a box.
So hopefully you have your own by now. Overall, these do feel like different Pixels than what we've seen in the past.
They aren't the mid-range Pixel 5 that we got last year and they don't really look like the Pixel 4 either. But at the same time, there's just something kind of generic about these designs. I don't know. They feel very Samsung S or something we might get from TCL or Oppo for that matter. They're also both large.
Like the regular Pixel is nearly as big as the Pro. For someone who has small hands and small pockets, y'all better be porn went out for me.
These things are more like the iPhone 13 Pro Max size than anything else. And Google is not giving us a small and large choice like it did in the past. Just give me small phones, please, please. 
All right. So that's the Pixel 6 and the Pixel 6 Pro. We're gonna be putting these to the test over the next few days.